The hubster and I just got back from a wonderful eleven-day anniversary cruise. We've been married a long, long time. Yeppers. Thirty-four years to be exact, but we've actually been a "thing" for thirty-six years now. Isn't he the cutest?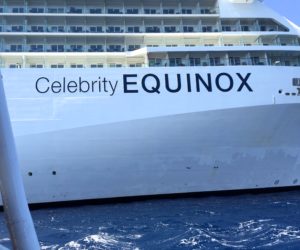 It was a truly terrific way to celebrate. I ask you, "Is there really anything not to love when you're on a luxury liner cruise ship traversing a vast blue expanse decorated with frothy white spume?"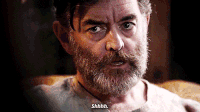 (Shhhh. That was a rhetorical question.)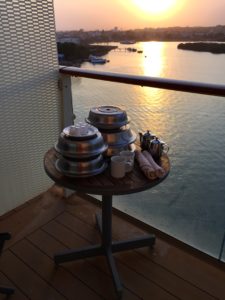 That being said, I'd like to offer a few suggestions regarding a cruise ship's balcony, if you're lucky enough to have one.
Helpful Hint #1) A sunrise breakfast is one of the loveliest ways to enjoy your balcony when you've got an early shore excursion.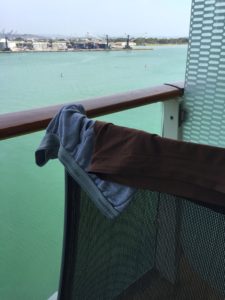 Helpful Hint #2) Do not EVER leave underwear, bathing suits or towels out to dry on your balcony when you are in port. Dry them in your cabin or in your bathroom.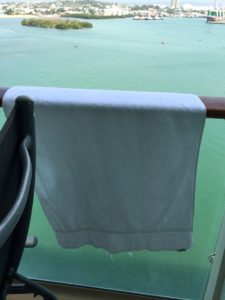 Why? Well … it's not just because it's an eyesore. It's because when you get back from your amazing shore excursion absolutely exhausted and scurry away to an early dinner you may forget to take these items inside before your ship leaves for its next port-of-call.
Exactly why is that such a problem?
Relax. I'm about to tell you from first hand experience. It's a problem because if your ship sets sail and you have forgotten aforementioned items on the balcony, I assure you they will not be there when you return. Ships travel fast, seventeen to twenty knots an hour, and as a result it is not unusual for a wind vortex to suck things right up and off your balcony.
Luckily for me, I'd brought several other bathing suits with me because I discovered my two piece had suddenly became a one piece after we returned to our room later in the evening, and, fortunately for the hubster, he'd brought along quite enough underwear so that he didn't mourn the loss of the one that went missing in the ocean.
"At least our towel just blew onto the floor of the balcony," I said to the hubster, feeling quite miserable about our faux pas.
"That's great. It's such a relief to know that only our intimate apparel is now residing at the bottom of the sea," he said, shaking his head at me. "It was stupid, but we shouldn't let this ruin our cruise. I'm sure we're not the first people to have made this mistake and we won't be the last."
I grimaced. "I should have remembered to take those things off the balcony as soon as we got back here today. I can't believe we just polluted the ocean like that. I feel soooo bad. I hope the fishes don't eat the clothes and get sick."
The hubster gave an evil smirk. "I'd like to think that right at this moment, there's a hot mermaid down there rocking your old bathing suit top."
"This is no laughing matter. Stop it!" I protested.
"Fine, but I think you'll find it's better than thinking about a merman swimming around in my gray underpants."
I couldn't help but laugh.
True dat, hubster. True dat!