Mother's Day has rolled around again. It's a day where most children take a moment to acknowledge and appreciate their mothers, but for me, it's a day when I pause to think of how I earned the proud title of Momma and my three delightful darlings (or as I like to call them, the best kids EVER!)!!!!
My children are vastly different from one another and each required a whole different set of parenting skills.
My oldest child passionately loved new things and new experiences. My middle child was much more tentative and often had to be coaxed into new experiences. The last child, (and possibly the one most responsible for every prematurely gray hair on my head), frequently disappeared like Houdini. I was never certain if she liked new experiences or was avoiding them altogether. (If you think I'm kidding, be assured, I am not. She was famous for her vanishing acts! It took the whole family and a few neighbors, to keep track of that girl!)
Although being a mother is an extraordinary amount of work and I was often dirty-dog-tired, I'd gladly go back to the days when I was their whole world and they loved me as fiercely as I loved them.
Every mother knows those days. The days when they run to you to be held, their little hands encircling your neck, while their short legs wrap around your waist in a strangle hold any wrestler would be proud to possess. Then that precious moment when they purposely place their perfect little heads on your shoulder while sighing into your ear, "I love you, Mommy."
I ache for the days I was allowed to hold them, rock them, sing them lullabies, and read them stories (often the same one over and over again).
I miss boo-boo kisses and handpicked bouquets of violets from the lawn. I even miss the dirty handprints and coloring on the walls, but what I miss most of all is the way they looked at me. If you're a mom, you're familiar with "the look." The one that says, "You are my everything. I love no one and nothing more than I love you."
However, children must grow and my number one job became encouraging them to keep their heads in the clouds and reach for the stars all the while keeping their feet firmly planted on the ground. That is not as easy as it sounds either.
I adore them and I am so proud of them. They amaze me daily, or at the very least, weekly.
Each year they give me wonderful Mother's Day cards and gifts, but I have three Mother's Day gifts that are sacred to me, one from each of them that I keep in a special drawer in my bedroom.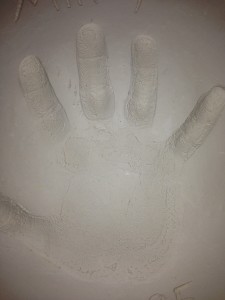 My oldest daughter's beautiful little handprint.
My son's homemade necklace.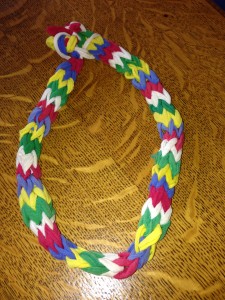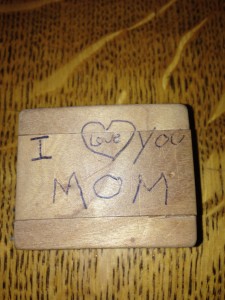 My youngest daughter's heart-in-a-box.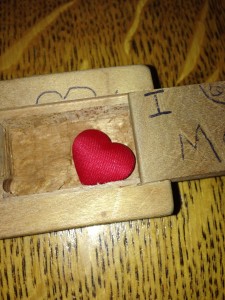 Today, I'm sending good wishes to all the mothers out there, to the young and to the very old. It is the hardest, yet the best, most incredible job you will ever love doing.
And here's to our children, our endless loves, and to their lives…full of endless possibilities.
(P.S. To my own Mom: I love you more than you will ever know! xoxo)