The pool skimmer and I have had our issues in the past, but this year has been particularly troublesome.  To be fair, I'm the one at fault.  I fully realize that I must replace the skimmer's cover after I've emptied the basket, but for the life of me I can't seem to remember to do it.
Two days in a row, while watering the lawn, I have stepped into the pool skimmer, lost my balance and pitched into the water. Now, if I had been wearing proper pool attire and had removed all electronic devices instead of being fully dressed, this might have been a welcome or at least refreshing occurrence, however, it instead had fatal consequences for my loyal fitbit friend.
For those of you who are not familiar with a fitbit, it is an ingenious little device that clips onto your trouser pocket and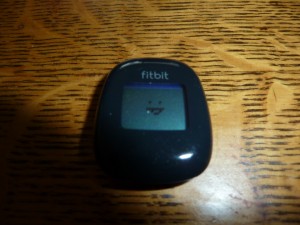 measures steps taken, distance walked,and calories burned.  It has become an indispensable part of my life because it by prods me, goads me and sometimes shames me into getting off my duff!
My poor fitbit did not succumb to drowning the first day.  No, indeed!  It instinctively held it's breath while I grabbed the diving board and swung myself out of the pool.  I was overjoyed to find the clever little machine working perfectly and we happily went about our business for the remainder of the evening.
I really can't tell you why I didn't learn my lesson the previous afternoon, but obviously I didn't and the next day when I took the plunge, I landed much further out in the water.  The fitbit was submerged for a lengthy period of time while I swam to the side of the pool.  I immediately tried to resuscitate it, but to no avail.  I even placed it in a bag of rice for several days on the off chance that it might spring back to life because it missed me so much.
Please excuse me while I share a special moment with the dearly departed.
My delightful fitbit companion, I am truly and deeply sorry that you had to be the one to suffer because of my problems with the blasted pool skimmer.  I take full and complete responsibility, little buddy.  If it's of any comfort to you at all, my leather loafers have shrunk half a size and pinch my feet, thus perpetually reminding me of my stupidity. You were such an inspiration to me and I shall greatly miss you!  RIP!