For the last five years Cinco de Mayo has been a very challenging day for me, but from what I understand, "anniversary reactions" are common after going through a trauma.  Although I don't generally flail, toss, turn, or disturb the peace after I've retire for the evening, I somehow managed to put my foot through a two thousand thread Egyptian cotton sheet last night. An incredible feat, (no pun intended) if ever there was one.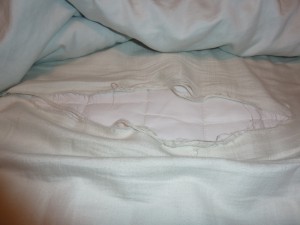 An anniversary reaction? What's that?
Sometimes the memory of a traumatic experience can be so intense that when the date of the experience rolls around the next year, and every year thereafter, the person may suffer restlessness, sleeplessness, anxiety, or any number of other distressing symptoms.
The date of the infamous Cinco de Mayo that began my descent into unspeakable agony was May 5th, 2008. On that day, the hubster and I were informed that our only son … our beautiful twenty-four year old, healthy, strong, wonderful boy had a fifty-fifty chance of living. He'd had a bicuspid aortic valve since birth, but it had always been watched carefully by his cardiologist. "What happened?"
The doctor explained that a strep infection had lodged in his heart and eaten away both his aortic and mitral valves. In an attempt to save his life, the surgeon needed to perform a very risky operation in the morning.
No amount of nursing education or hospital experience prepared me to hear that my son might die. I found myself drowning in shock and pain. How had my son's much anticipated short weekend visit home from NYC turned into such a fiasco? How could the world still be going on around me when my life had just been shattered? How could my son be in the process of dying? I couldn't begin to comprehend it. As a mother, you can never be ready for this kind of news and the word "devastated" cannot begin to describe how I felt. Watching our son receive and react to the news was even more unbearable!
The nurses gave our son something to relax him and when he was settled and calm, the hubster and I briefly left the hospital to try to process the fifty-fifty chance that our son had been given to live. We weren't hungry, but we wandered into the nearest eatery, a Margaritas Mexican restaurant. It didn't even occur to us it was Cinco de Mayo until we entered the building. The manager greeted us at the door with smiles, flowers and balloons before escorting us into the festive atmosphere. Watching all the happy people partying around me while I worried about the possibility of burying my son, proved too much for me. I went to the ladies room and sobbed in a bathroom stall. I came back out and sobbed at the table, too. I just couldn't get myself together.
After a sleepless night, I walked into the hospital feeling gutted. As the nurses wheeled my son into surgery, the gravity of the situation struck me, and I completely shut down. Had I just said goodbye to my son for the last time? I pulled a hoodie up over my head in the waiting room, put my fingers in my ears, and curled up in a chair with my head buried in a pillow for the next seven hours straight.
Fortunately for me, we have amazing friends who came to the hospital to sit with us during our son's surgery, and even though I had totally shut down, these darling friends were compassionate and understanding. They offered me earplugs and sat with me in silence solidarity.
The next day brought us still more bad news. We learned the electrical conduction system of our son's heart had been destroyed, and that in addition to his two new artificial values, he would need a permanent pacemaker. The news left us reeling and even more grief-stricken for our child … but at least he was alive, and that was enough!
I don't remember many details of my son's hospitalization, and I am very grateful for that, but I do remember being panic-stricken and praying. I begged and pleaded with God for my son's life to spared. To me, life wouldn't be worth living if I lost any one of my three precious children. They were and always have been the best things I have ever done.
This story, however, has a very happy ending because five years later our son is alive, well and prospering, and as soon as the traumatic anniversary of May fifth and sixth comes and goes—I'll be fine too.
Luckily for me, Mother's Day is coming up. Hopefully, my three amazing, fantastic, one-of-a-kind children (who I have now just buttered up with the right adjectives) will chip in and buy Momma a new set of sheets or a Bed Bath & Beyond gift card if I promise to sleep on the floor during next year's anniversary dates.