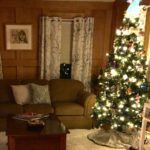 Dear Family, Friends, & Random People Who Read This Blog,
What a wondrous year 2017 has been! I simply have to share!
To celebrate our wedding anniversary in March, the hubster and I went on a lovely anniversary cruise. We did run into a little trouble in Costa Rica when the hubster tried to smuggle a darling, but very stinky, three-toed sloth he'd picked up in the jungle and a tank of Tico moonshine on board our ship. I had no idea my husband's souvenirs would land us in a Costa Rican jail for the night, but apparently those items are prohibited on board by some sort of international law. (Who knew? Consider yourselves warned)!
Next it was on to the country of Panama. Visiting the Panama Canal took my breath away, mostly because the hubster leapt from one of the observation stations and into one of the locks after it had filled with weird green water.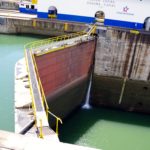 There he proceeded to float around on his back spurting water from his mouth like a mini-humpback whale. He said it was a glorious swim. I'm thrilled he had the opportunity and that we got to see the Panama canal when we did, as we have now both been permanently banned from the country.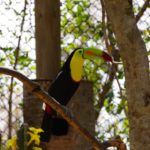 The bird sanctuary in Cartagena, Columbia was my favorite stop even though the hubster took up with a brazen hussy of a toucan who followed him everywhere he went. He took more pictures of her than me on the trip, but I'm no longer bitter. My man made it up to me by giving me a beautiful emerald, which I was allowed to wear after he smuggled it through customs in his underpants.
When we returned home, we heard from our son and his adorable wife who live LA. Since he's hit it big in Hollywood he's offered to treat us to the nursing home of our choice in the future if we promise to keep our international escapades to a minimum in the coming years.
Our eldest daughter continues to surprise and delight me. She will be receiving her masters in belly dancing and will be playing the lead in an up and coming Broadway production called "Been There. Done That. Never Again."
After raising enough money to start an orphanage in Botswana in the spring and despite being maimed by a lion while on safari in the Serengeti, our youngest daughter went to the Himalayas this summer and climbed Mount Everest carrying two injured traveling companions to the top on her back.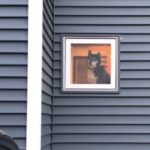 Not to be outdone, while visiting NYC this summer, Winnie and Rupert were "discovered" by a talent scout for dogs. He wants them to move to NYC, but Winnie and Rupert are totes against it until after the holidays.
My multiple personality disorder reared it's ugly head again this year, which is why I haven't been able to blog for the past couple months, but I'm out of the "clinic" for good this time. (Fingers crossed, people)!

Anyway … 'Tis the season to sell ice in Alaska, so I'm off. You all take care!
Love, Joy, and Peace!
All the best,
L.L.