Whoa, whoa, whoa, America!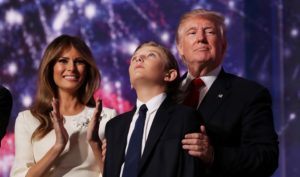 I want to talk to you as a mother, a nurse, a young adult author, and a Democrat.
I don't mind one bit that some of you are exercising your right to protest the election of Donald Trump, but I do mind how you are going about it … protesting outside the residence of president-elect Trump in Manhattan. That is one step too far and over the line. Why? Because there is a child living there … a young child!!!
The majority of Trump's children are adults and don't live in Trump tower. They are grown and they are capable of understanding what is going on, but there is a little boy living inside that tower watching you, He is hearing you, and HE is probably terrified for his father. Does he have any rights at all or are your rights the only ones that matter?
How do his parents protect him from YOU while you stand outside of his residence protesting and yelling insults at his family?
What? You're not bullying anybody, you're only exercising your right to protest!
I disagree. (Chanting "Rape Melania" is unacceptable behavior and it is bullying!)
Come on, people! America is better than this, aren't we? Donald Trump will know you're upset wherever you decide to protest. You have a right to do that and I support you completely, but if you insist on standing outside of Trump tower, why can't you stand there silently for the sake of that little boy? In my humble opinion, you shouldn't be standing outside the home of someone with a small child shouting insults at his family anyway. (I'll bet you a thousand dollars, Hillary Clinton and President Obama would agree with me).
I'm not okay with a child being caught in the middle of what you're doing and none of you should be okay with that either! Think, people, think! You can protest without being outside the home of a small child.