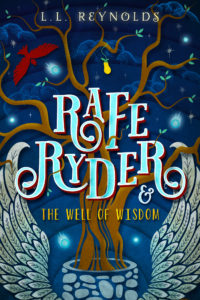 As most of you know, Rafe Ryder and the Well of Wisdom is entered in a cover contest over at http://authorsdb.com/2016-cover-contest-results/22392-rafe-ryder-and-the-well-of-wisdom which ends October 15. If you haven't voted yet … you still have time! Please help me show some serious love for my cover artist Jenny Zemanek. She is a dream to work with! You can find out more about her at http://www.seedlingsonline.com/
AND … BECAUSE RAFE RYDER FANS ARE EVERY SHADE OF AWESOME:
If you've voted for Rafe Ryder and the Well of Wisdom in the cover contest over at authorsdb, you can send an e-mail to llreynoldsbooks@yahoo.com to win a signed book as well as a 25$ Amazon gift card. There will be five lucky winners drawn on October 16th.
ALSO … TO THANK YOU FOR THOSE AMAZING AMAZON REVIEWS:
If you've read Rafe Ryder and the Well of Wisdom and have left me a book review on www.amazon.com/Rafe-Ryder-Well-Wisdom-Book/dp/0996931910, you're eligible for a different drawing. This drawing you'll win a signed copy of the book and a100$ Amazon gift card! This drawing will take place on November 20th, on the first anniversary of the series release. Just remember to e-mail me at llreynoldsbooks@yahoo.com to tell me you've left a review. There will be only one lucky winner. (I'm not rich yet, people! Give me time.)
AND … BECAUSE EVERYONE KEEPS ASKING:
Here's some more exciting news. The second book in the Rafe Ryder series, Rafe Ryder and the BrushStroke of Time, is due out in May 2017. Mark your calendars!