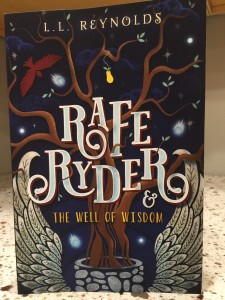 I'm so excited! My debut novel is now available in paperback and ebook versions for the holidays! In 5 weeks, Rafe Ryder and the Well of Wisdom will also be available in hardcover! (Say what?) Also, I'm giving away 50 copies on Goodreads! Check it out!! (Giveaway running from Nov.27th-Dec. 27th.)
If twelve-year-old Rafe Ryder ever finds a way to get back to Earth, he's going to give his parents a serious piece of his mind. They concocted the brilliant idea to ship him off from his home in England to Maine to attend the prestigious Ryder-Knight Academy, and, as a result, he's now stuck in the most perilous place in the universe–an elite angelic training facility in a world known as Mystfira.
As Rafe discovers unlikely friendships with angels, fairies, and leprechauns, he realizes Mystfira has its charms–even if it rains fire and hosts the universe's deadliest creatures. Where else could he attend school in a palace, catch a fairy xant, and watch angels prove themselves in Adomis trials?
If only he and his friends hadn't blundered upon a sinister underworld plot to gain control of the heavens and Earth. Now, like it or not, if Rafe wants to go home, he'll have to find a way to save it first.