When your zip code is E-I-E-I-O, you eventually become accustomed to sharing space with local farms and farm animals.  Fortunately, I spent most of my formative years in an itty-bitty Maine town so I can truly appreciate Vermont and the down-to-earth people who live here.
For the twelfth year in a row I have attended the annual Strolling of the Heifers weekend in Brattleboro, Vermont.  It's an utterly charming event and if you've never attended it, don't worry, there's always next year.  Bring the children and the grandchildren; they'll thank you for it!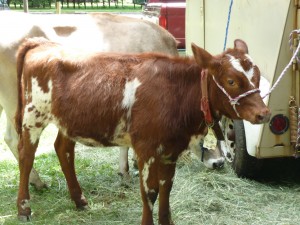 The Strolling of the Heifers began as a parade and day-long tribute to agriculture, but it has evolved into five days of awesome events and it has put eclectic little Brattleboro on the map. Tens of thousands of people now attend this popular yearly festival.
The parade is off any known cuddly cuteness scale.  It's impossible to be a curmudgeon there because, dang it, it's fun to watch a hundred heifers slowly moo-ving down Main Street, followed by other barnyard critters, tractors, clowns, floats, bands and dairy fairies.
After the parade, I moseyed down to the eleven-acre slow living expo.  It was a veritable showcase of local talent and entertainment, not to mention entrepreneurs, exhibits, games, and vendors.
In addition, it was very educational.  Today I learned the difference between a mule (offspring of male donkey and female horse) and a hinny (offspring of a male horse and female donkey).  I also learned that alpacas and llamas are types of South American camels.  Really? Who knew?
Brattleboro is home to a trapeze/aerial circus school and it was a treat to watch them all perform. This girl was only fourteen, but already a marvelous little entertainer!  She held her poses long enough so we could all snap pictures between our ooos and ahhhs!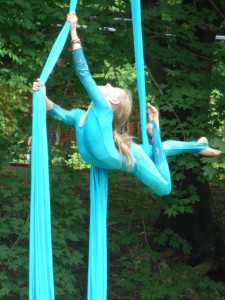 There was a line a mile long for the Strolling of the Cheeses tent, but I patiently waited for my free cheese samples which were delicious!  Nothing like Vermont cheese!
The tractor exhibit was very popular with the kiddies.  Who doesn't want to sit in the seat of a tractor at any age?  It's cool!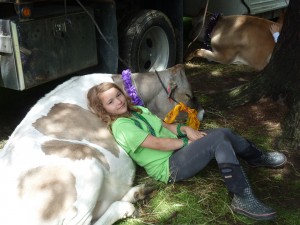 Far and away, my favorite moment of the day came when I found a young girl tucked between two cattle trailers.  Her name was Riley and she confessed that she and her cow Cricket were resting in the shade as they were plum tuckered out.   Can anyone say adorable? 

I miss Maine and the ocean, but I gotta say…I love Vermont and the Strolling of the Heifers!